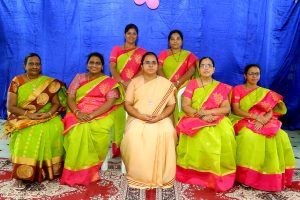 The Literary club , one of the foremost club of the school hanker, inculcates students a flair for the language and enhances their literary skills. The writing, speaking and creative skills are thus almost completely developed by the time they reach class X.
Competition whose motive is merely to compete with each other to win a place in the top aperture. The students represent their groups to bring points to win trophy.
Essay writing, Elocution, Group discussions and Debates are conducted in English, Telugu and Hindi. After an introductory round selected students reach the finals. In the finals the students are judged by exterior judges. For each event the three judges give their marks for the students based on their content, style, accuracy and presentation . The total of three judges then decides the winner of the event. On the whole care is taken to ensure that the events are conducted in a fair and just manner, so that the atmosphere of healthy competition is retained at all times, apart from imbibing the policy of fairness and fair play in the students.
An in charge member for the club is appointed at the beginning of each academic year.  He or she is assisted by the secretary and assistant secretaries in the smooth organizing of the events.