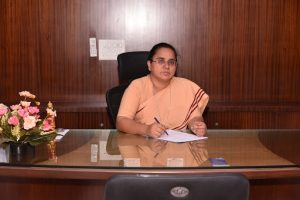 Teaching is one of the most serious professions on our planet and across the world people believe that if you have love for children you can teach well. Atkinson School looks at education from a long- term perspective so that the country as well as the students reap the benefits a few decades later. The school is affiliated to the CBSE Board and runs classes from Nursery to X. Though a Minority Institution, it serves to all irrespective of caste, creed or linguistic groups.
The major objective of Atkinson School is to educate the youth in the spirit of service to humanity. The priorities are not only scholastic excellence, but also formation of youth in discipline, hard work, moral and religious values. These priorities are meant to prepare the youth for life, by promoting intellectual excellence, uprightness of character, emotional maturity, scientific temper, spirit of healthy competition, co-operation and sportsmanship through co-curricular activities, moral sensitivity to the needs and rights of other especially the poor, religious tolerance, national integration and learning through multiple intelligence.
Our school strongly believes that every child is unique. Each child has his/her own potential and talent. Every child is allowed to grow as an individual and thereby explore his/her full potential. Along with nurturing talent we also ensure that every student is a winner even academically and special care is taken during assessments and examinations. These basic principles also formulate the mission of our school and help us bring better understanding of the students potential and hence an enhanced learning system in the school.
During the Covid situation, the Atkinson School ensures the complete safety of the students. With the online classes the content is delivered in an amalgamation of text, audio, graphics, and videos for easy accessibility and understanding. The web portals are designed in such a way so that they can be easily used by kids of any age.
Our aim is to create an ambience of learning with stress on proactive thinking and molding a generation of competent and creative individuals capable of proving constructive leadership in the society. To achieve these aims and objectives, the school organizes various co-curricular activities by hosting numerous competitions. To bring about a change in any aspect of society, the leadership has to be inspiring, urgent, inclusive, galvanizing and repetitive. A good education is a foundation for a bright and better future. Hence, we lead the way for a bright and better future of every child that learns here in this school.
Sr. Fathima Pavani
Principal