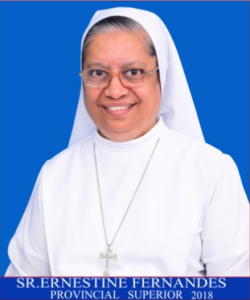 From humble beginnings to towering heights, Atkinson High School, Gollapudi, AP has been growing from strength to strength, climbing the ladder of success in great strides and carving for itself a niche not only in the history of Vijayawada but also in far wider circles.
Right from its inception in the year 1982 down through the decades, this temple of learning has not lost focus of its vision and mission. Managed by the Congregation of the Sisters of St. Ann of Providence, founded in Turin, Italy in 1834, by a rich, noble and an illustrious couple Carlo Tancredi and Giulia di Barolo, the Sisters first set foot on Indian soil at Secunderabad, Andhra Pradesh in 1871 and in Vijayawada in 1895. The Sisters rejoice to celebrate this year, 150 years of their presence in India and almost 135 years in Vijayawada. Working in 15 Indian States they carry on mainly their Educative Formative Mission. Besides they also have a good number of Hospitals, Dispensaries and Health Care Centres to carry on their Medicare Ministry. Social Welfare Activities are executed through Orphanages, Shelter Homes for the Women and Youth at risk, Refuge Homes for Aged, Disabled and Destitute, Self-Help groups and Income generating Projects.
Our Founder Carlo Tancredi, being a well known philanthropist, politician and an Educationist par excellence and guided by the pedagogy of the heart, strongly believed that the Heart of Education is the Education of the Heart. Aware that the greatest form of poverty is illiteracy he started the first Kindergarten School in his palace and sponsored many schools of music, art, wood carving and sculpture in favour of economically backward youth.
In keeping with his dreams and desires, Atkinson School has always worked hard to promote those values of the heart like love, compassion, kindness, understanding, forgiveness and respect for human dignity. The Universal values like patriotism, fraternity, freedom, equality, justice and religious tolerance are inculcated right from childhood through co- curricular and extra- curricular activities. Participation in various sports, games and cultural competitions  are encouraged at all levels, to foster a healthy  spirit of sportsmanship and brotherhood.
Believing that the destiny of nations lies in her classrooms, Atkinson High School, through a well-qualified and dedicated band of staff leave no stone unturned to prepare for the future all round developed personalities- namely citizens for Mother India, who are intellectually enlightened, spiritually strong, morally upright, socially productive, emotionally balanced and aesthetically appreciative.
I pray, Atkinson School continues to play a leading role in society proving that the education imparted within its four walls is not ornamental but instrumental to bring about the needed social change. I pray that every person who enters the portals of this Institution, be richly blessed by Almighty God who is the giver of every good gift.